Rezdy Bookeasy Partner Integration
Is Now Live!
11th November, 2016 Gold Coast
It's a great day for Bookeasy Tourism Destinations as the Rezdy Partner Integration is now live and ready to go!

In September Bookeasy announced a major partnership with independent global tour and activity marketplace and booking software company Rezdy, enabling over 200 existing Visitor Information Centre and Destination partners real-time access to tours and attraction availability plus the ability to book directly.
The integration streamlines a reliable booking and product solution for Visitor Information Centres, enabling staff to check real-time availability and receive immediate confirmations without having to pick up the phone.

Tony Shine, one of Bookeasy's Directors said:
"Facilitating connectivity to real-time inventory in the emerging tour and activity sector is incredibly important for the greater tourism industry, especially for our Visitor Information Centre network and Destination Marketing Organisations. This seamless integration will save staff time, increase bookings and ultimately better meet the needs of the visitor which is what we are all here to deliver."

Simon Lenoir, Rezdy's CEO said:
"Rezdy and Bookeasy share a passion for showcasing the incredible range of tours and attractions across the country. This partnership is a win for Australian suppliers who will benefit from the exposure to such a strong distribution channel via Visitor Information Centres and their customers".
Bookeasy's destination partners can now access negotiated Rezdy supplier rates!

Frequently Asked Questions
What's the key benefit?
Bookeasy will be providing a means for destinations to seamlessly connect tour and activity product with real-time rates and availability. This will result in a streamlined booking experience for not only the visitor, but Tourism Centre Staff, Tour and Activity Operators, and destination websites.
How will the process work?
The good news is that the Bookeasy Team will be connecting all operators on each Destination's behalf! Once each destination's existing operators using Rezdy are connected, Bookeasy will provide instructions on how they can connect new operators.
Bookeasy will be in touch with each destination over the next 2 weeks to re-confirm the list of operators to be connected. This list will comprise of operators that are using Rezdy whereby the destination is the operator's current mothership.
Please note: If a destination is not the mothership for an operator using Rezdy, they will be automatically linked to the operator's Rezdy product once the mothership has connected them to Bookeasy.
What data will be updated by Rezdy?
Once the operator is linked to Rezdy, their Bookeasy Tours Console will be updated in the following areas:
Tours/Tickets tab
Rezdy will send all Tours available and store these under the Tours/Tickets tab. Rezdy tours will be made active, while any existing tours loaded in Bookeasy will be archived. Rezdy will send through all tour information, rates and availability. Rezdy tours will be easily identified by the Rezdy logo next to each tour.
Images tab
Rezdy images will be added into the standard images section of the operator's Bookeasy Tours consle if there are empty slots available (max 6 images). These images will not replace current ones. In addition, each tour product image will added from Rezdy if available.
Other details tab
The Bookeasy Tours console will automatically set each tour to Gold Medal (instantly bookable) and Confirmed today (insantly bookable for same day bookings).
Please note: The Operator Business details will not be updated. This section will remain untouched with the operator's current details.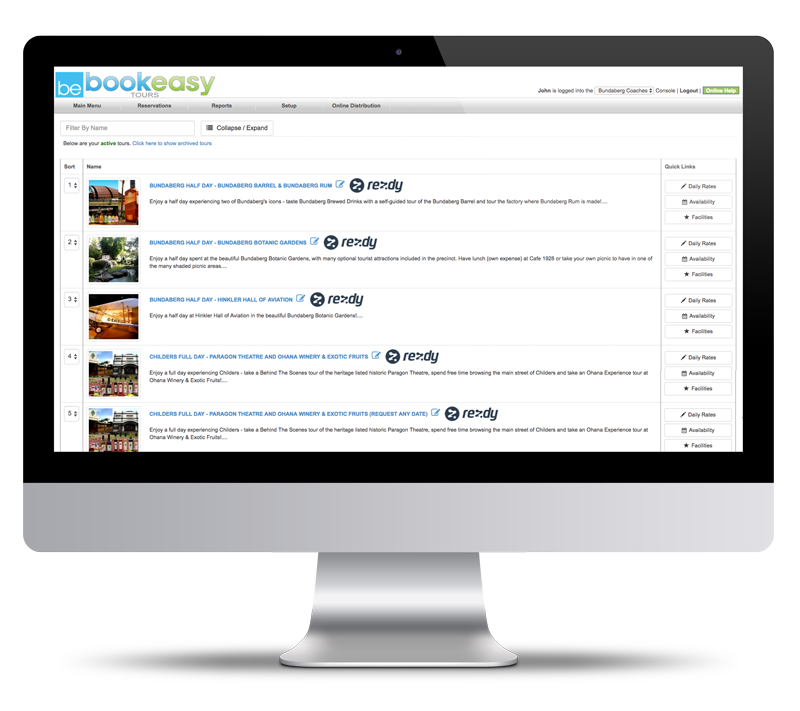 Will the booking process change?
The booking process for Tourism Centre Staff and Destination website visitors will remain unchanged. Tourism Centre Staff can simply book the operator via the Tour Search page in the Bookeasy Staff Console as normal. Destination website visitors will book tour product via the established booking method.
Further information regarding the specifics of how Bookeasy's interface functions with Rezdy's API will be provided to each destination during the onboarding process.
All operators connected via Rezdy will also have a Rezdy logo visibly displayed in the Bookeasy Staff Console (but not on the destination website).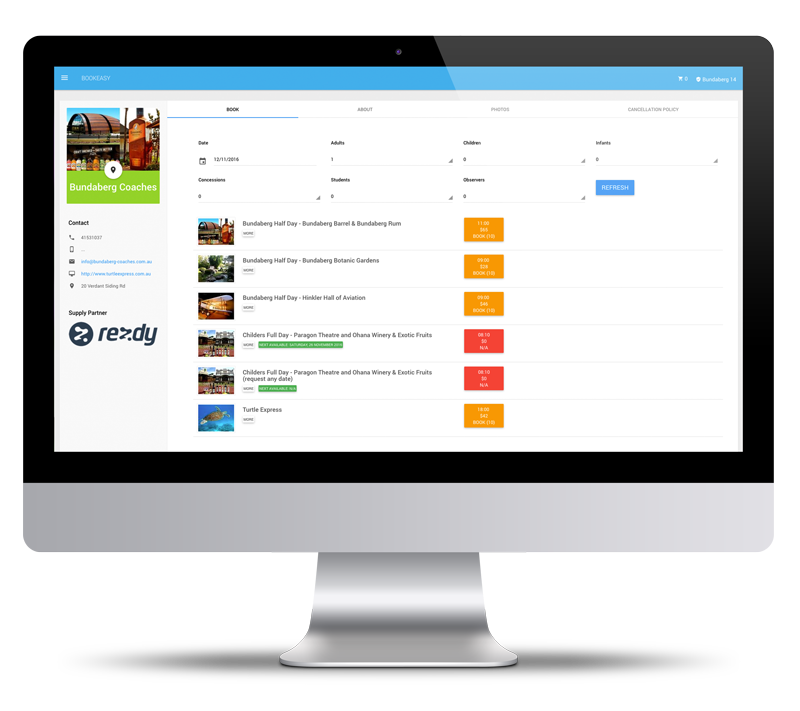 Will there be any additional costs to our destination?
No! The Rezdy Agent Marketplace is free of charge and the provisioning of this service will come at no extra cost to destinations.
Is there anything the operator needs to do in Rezdy?
Rezdy has been working with their tour operators to ensure they are connected to all of Bookeasy's Destination Partners. This includes ensuring they have rates and availability loaded plus the applicable commission % loaded for their records.
Once all of the existing operators have been connected, Rezdy will provide instructions on how an operator can arrange to connect on their own.