As part of Bookeasy's 2.0 user interface upgrade, Bookeasy is excited to announce the release of the brand new Reservations Search page for Tourism Centre Staff.
The Reservations Search page is one of the most important and highly used areas of the Bookeasy Tourism Centre console. As a result, careful consideration was taken into account to ensure we've provide a modern (but familiar) user interface for Tourism Centre Staff.
What's New?
We've introduced a brand new clean and fully responsive user interface that can be used on any device.
We've updated the reservation status colour coding so you can quickly identify reservations of a particular type.
Faster load times! When accessing your reservations you should find they now load a lot quicker!
We've introduced a new streamlined quick search where you can easily search for an itinerary number, booking number or customer name from just the one field.
Advanced search filters now allow you to conduct robust reservations searches.
Reservations search results now default to load 10 reservations per page (making it super fast), with options to quickly view 25, 50, 100, 200 or ALL.
You can now export your reservations to PDF!
Refine your loaded reservation search results further by filtering by keyword!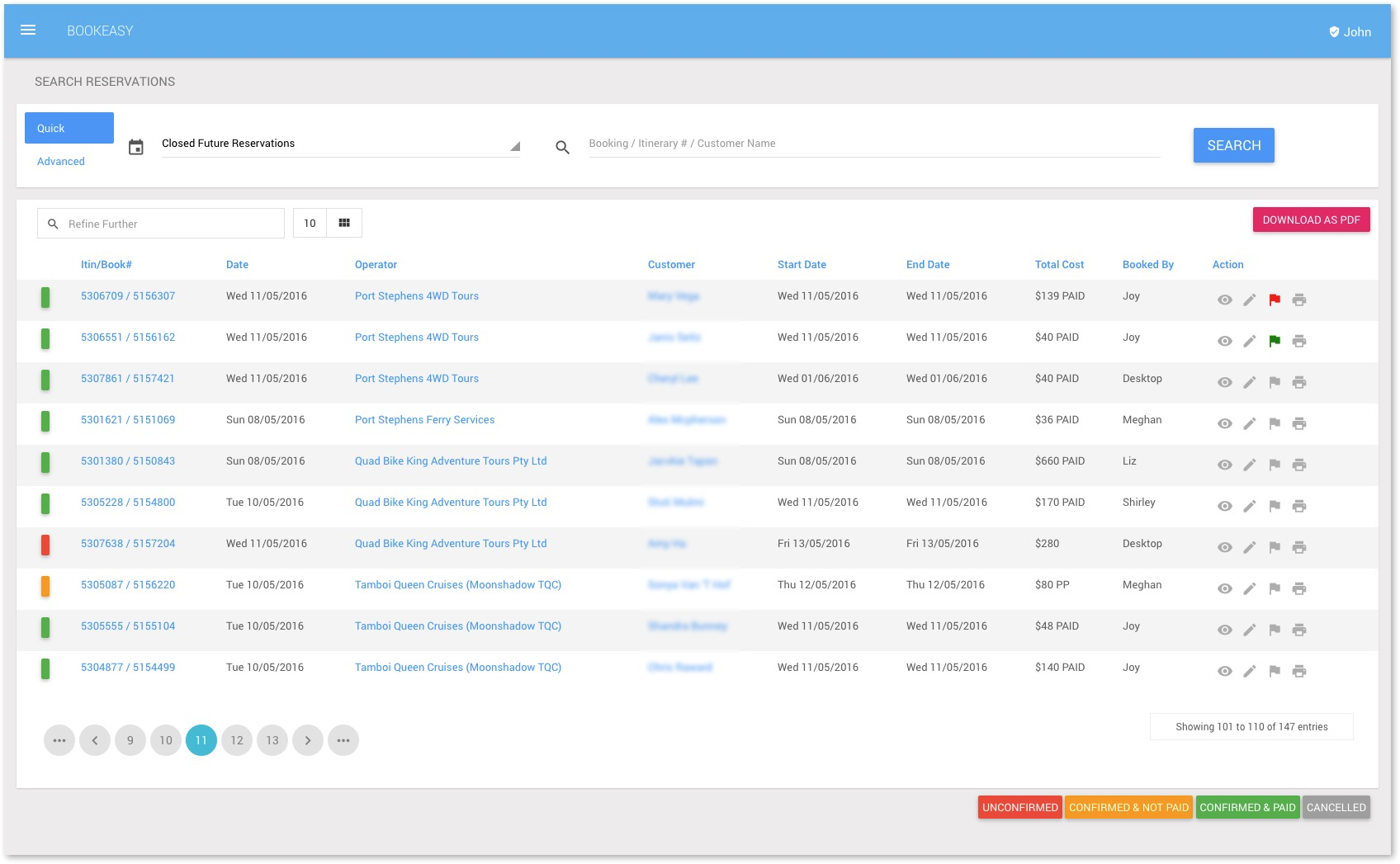 New Reservations Status Colour Coding
The way you can quickly identify the status of your reservations has also been upgraded to a more user friendly experience. We've also updated the colours to fit more in line with Bookeasy's new 2.0 theme, but more importantly to colours that make more sense!
Each booking viewed in your list of reservations now includes a colour icon representing the booking's status.
These are your 24 hour "on request" reservations that are requiring confirmation by the tourism operator. We've flagged this status red as confirming unconfirmed reservations is the highest priority!

These are bookings that have been confirmed by the tourism operator, but still require full payment. Not as urgent as needing to confirm a 24 hour "on request" booking but still a high priority, hence the orange colour.

These are bookings that have been confirmed by the tourism operator, fully paid by the client and/or closed. No further action is generally required for these, hence the lower priority green colour!

These are bookings that have been cancelled.
New Streamlined Quick Search
Have you ever searched for a reservation by inserting the itinerary number, only to find the customer has provided you with the booking number instead (or vice versa)? Now it won't matter! Bookeasy's new Reservation quick search provides just the one field where you can search a booking number, itinerary number or guest's name.
We've also added the quick search to the Bookeasy Tourism Centre console's Main Dashboard and Left Menu, so no matter where you find yourself in Bookeasy you'll be able to search for a reservation quickly and easily.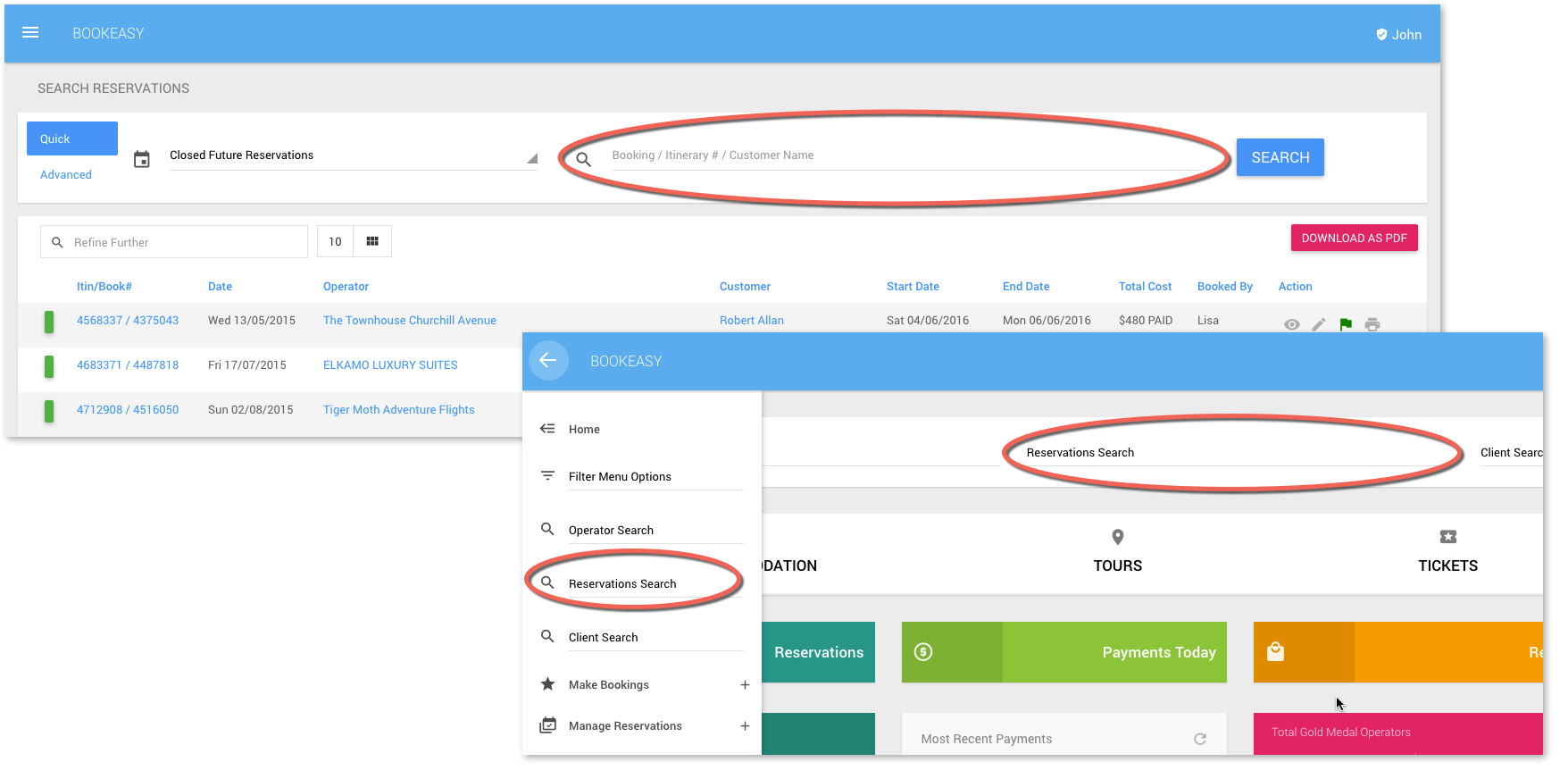 Advanced Search Filters
Need to view all reservations that were made last month, or see a list of reservations where guests are arriving in the next 3 weeks, regardless if they've been fully paid or confirmed? With Bookeasy's advanced search filters you'll be able to locate and pull up a list of reservations by:
Filtering by Booking Date or Arrival Date
Searching a Date Range
Selecting multiple filters such as bookings that are Unconfirmed, Confirmed, Part Paid, Closed and Cancelled
Selecting a specific Tourism Operator
Filtering by Customer Name

Export to PDF!
Whether you need to file a list or print a copy, as part of this upgrade we've include the ability to export your entire reservation list's search results to PDF.

To see a full overview and guide of the new Reservations Search, click on the below button:
We're really excited about this change and hope you like it!