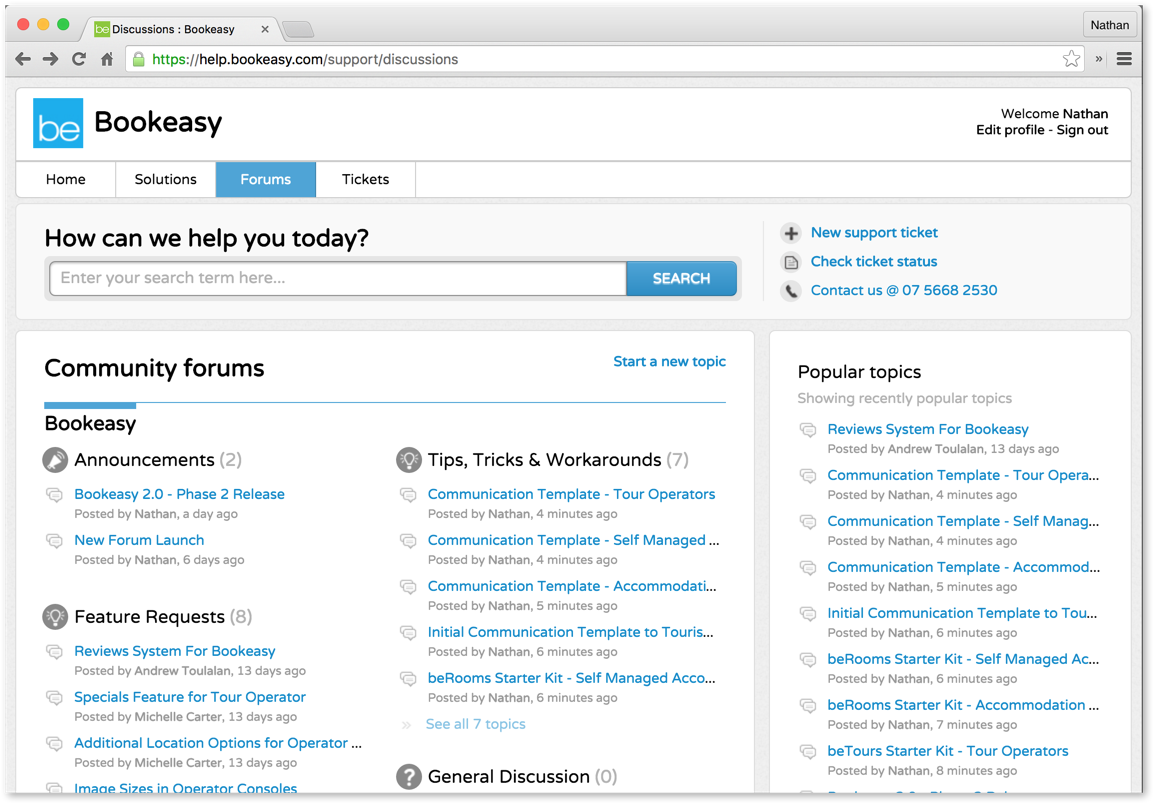 Why should I join the forums?
To stay up to date. We will be releasing all information to the forums, including upvotes on feature requests.
How often should I use the forums?
That is up to you, however the more users are actively participating the better for the community.
Who should sign up?
We encourage all Tourism Centre staff to use and engage with the forum.
Who will manage the forums?
All Bookeasy staff will be moderating the forums, however we will eventually be passing this over to the community.
When can I start using the forums?
Right now! Once you sign in/sign up you may start using this straight away.
Where can I see the forum?
What's the Forum for?
Powered by Freshdesk, this new industry forum is designed to "break down State walls" so Tourism Destinations can ask questions, share insights and liaise with like-minded industry peers.
It is our hope that the information contained throughout the forums will provide Tourism Destinations an identity in allowing them to share best practice methods in managing tourism operators, post feature requests, submit ideas and feedback or just share your experiences/issues with other Destinations.
The forum has also been broken down into 4 main categories:
Announcements
Posts under this category come directly from Bookeasy. Clients logged into the Help Portal will be able to view and comment on posts under this category, but will not be able to create posts under this category.


General Discussion
Designed for general comments, questions and discussion, clients logged into the Help Portal will be able to post, view and comment on posts under this category.


Tips, Trick & Workarounds
A place to ask questions and post handy info, tips, workarounds and best practice information. Clients logged into the Help Portal will be able to post, view and comment on posts under this category.


Feature Requests
A place for clients to open up discussion for feature requests they would like to see regarding their Bookeasy Tourism Centre console. Clients logged into the Help Portal will be able to post, view, comment and upvote feature requests by selecting the Do you like this idea? link. When viewing feature requests, clients can also sort by those that are popular, planned, in progress, deferred, implemented and not taken.
Can I Get Bookeasy Support via the Forums?
The forums are designed to help provide a means to put questions to industry peers regarding scenarios Tourism Destinations may encounter or would like insights for, whether those questions be related to the Bookeasy software solution or not.
Although Bookeasy will mediate the forums, all standard support queries directly relating to the Bookeasy console should be submitted by submitting a support ticket.
How Can I Access the Forum?
The forum can be accessed at https://help.bookeasy.com/. Please note that you will be required to login in order to view the Forum menu item and topics.
How Do I Login?
To login, select the Login button at https://help.bookeasy.com/ where you can login using your email address and password. If you don't know your password, select the "forgot your password" link and follow the prompts.
If you follow the "forgot your password" steps and receive the "No user was found with that email address" message, it means you've not as yet been registered on our support portal. As a result you can register by selecting the "Sign up" button.
How Can I Post to the Forum?
Once logged into https://help.bookeasy.com click the "Start a new topic" link. This link can be found on both the homepage and Forums page.
When posting a new topic you will need to enter:
A Topic title
This is subject of your post


Message
This is the main message body where you have access to a WYSIWYG editor. You can use the editor to format text, add links, inline images, embed a video or add code snippets.

We strongly recommend keeping your messages as brief and to the point as possible with just enough information for readers to understand your message (keeping in mind that you can attach multiple files along with your post).


Post topic in
Select the forum category type you wish to submit your topic to. These are:



General Discussion
Tips, Tricks & Workarounds
Feature Requests



Attach Files
Click the Attach a file link to attach files to your topic post. Repeat the process to attach as many files as necessary.


reCAPTCHA
Type the text you see in the image window before saving your forum topic post. This is necessary for spam prevention so we know you're a real person!


Save
Click Save to save your topic post.
Once you have saved your topic post, it will appear in the forum after a standard moderation process conducted by Bookeasy.