Bookeasy Product Availability Enhancements
Bookeasy is excited to announce an update coming to the way bookable product Availability is handled for Tourism Centre Staff, your guests and valued Tourism Operators.
For the past few months Bookeasy has been hard at work completely re-writing the schema that handles all availability for Bookeasy, Room Manager and Tour Manager.
The initial release will be staged and will see these changes applied to everything Accommodation first. These changes will then be rolled out for bookable Tour and Ticket product in subsequent releases shortly thereafter.
Performance Enhancements
As a result of our efforts and as part of this rollout, the following performance enhancements will be provided:
Availability will now be unrestricted. The maximum number of product allocation will be increased from 999 to over 2 billion.
Database locking (i.e. delays caused by simultaneous bookings for a single product) will be improved over 350x.
General availability look-ups have been massively improved.
Guests and Tourism Centre Staff will no longer face the scenario of their cart not being bookable at checkout. Once an item is in their cart, it's a guaranteed booking whilst their session is active.
Linked availability performance has been drastically improved.
Linked availability is now managed independently of close-outs, so will no longer face the scenario where they may be corrupted by modifying the close-outs of the child room.
Enhanced Features
Booking Timer
Bookeasy is always striving to provide its clients with the best tools of the trade, but it goes without saying that these updates were brought to the forefront as a result of our valued partnership with Parks Victoria.
Parks Victoria commissioned a project that has directly resulted in development that will see the introduction of a Booking Timer to the shopping carts of destination websites utilising beDigital's beGadgets, and all Bookeasy Tourism Centre Staff Consoles.

This Booking Timer will apply itself to any and all items added to a shopping cart, whereby the product within the cart will be reserved until the timer runs out.
During this time, no one else will be able to book the product that has been added to the shopping cart, thereby guaranteeing the booking and providing a better user experience.
An option to extend the time will also be provided for those who need more time to complete their booking.
In order for the booking timer to display on your website, your web developer will be required to implement custom styling in order to ensure it displays according to your website's unique template.
Enhanced Operator Console Availability Screens
Bookeasy will also release enhanced availability screens for all bookable tourism operators, with the Bookeasy Rooms and Room Manager consoles the first to benefit from this update.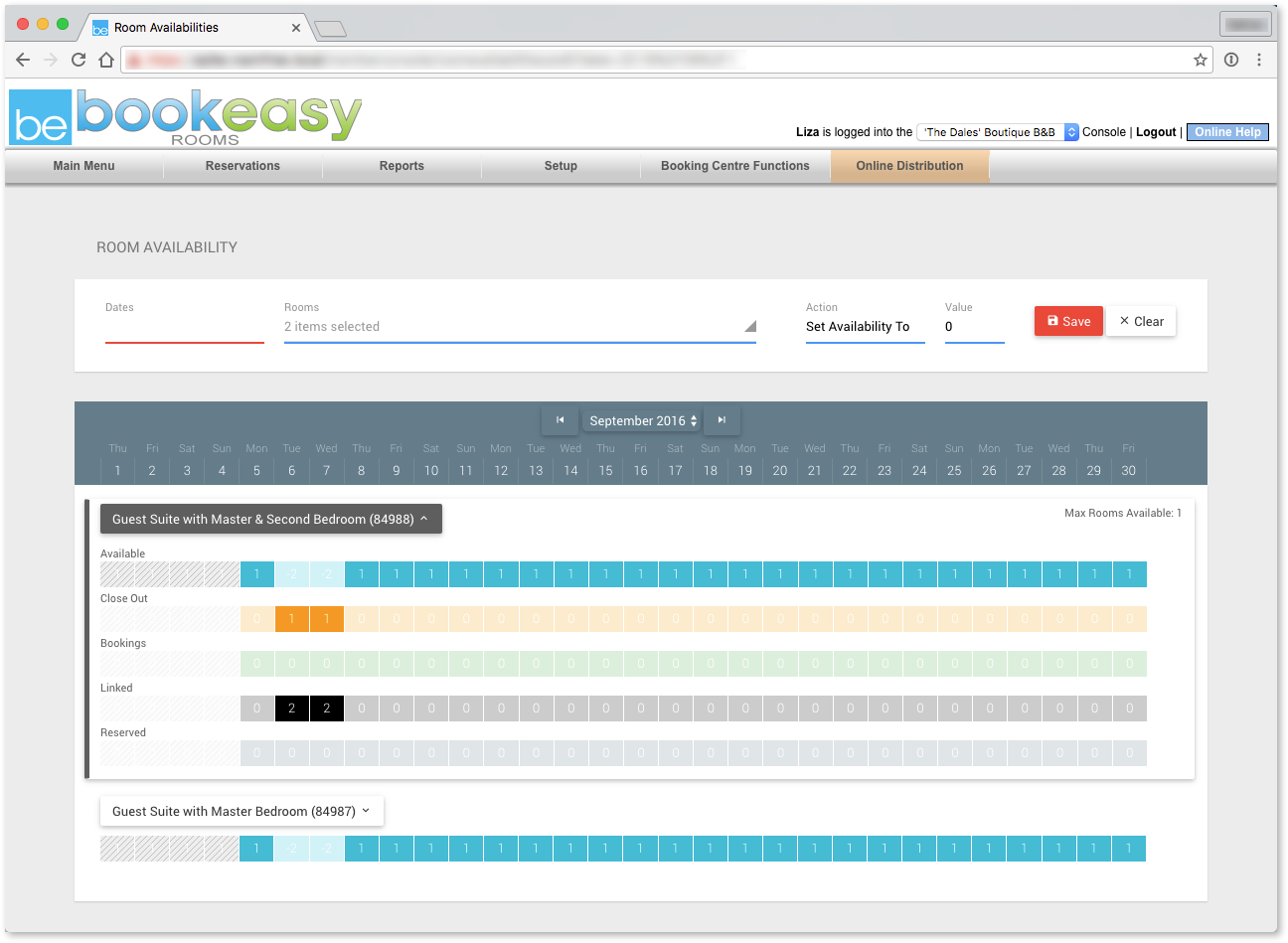 The enhanced availability screens will provide the following features:
The default view will display each product with just the one row representing what is currently available.
Operators can expand each product to a view only display in order to see manual close outs, bookings, linked availability and reserved availability as a result of the new shopping cart Booking Timer.
Operators can now easily update single days and/or date ranges from the one screen.
Operators can now easily update the availability for multiple rooms from the one screen.
Updating availability has been streamlined and made easier so that operators can Set Availability To, Increase Availability By or Decrease Availability By a specific value.
When Will These Changes Happen?
Starting with accommodation product, Bookeasy is planning to update to the enhanced Availability Schema after hours on Monday 12th of September 2016.
Once Bookeasy has released the above and is satisfied with it's rollout, we then plan to release the enhanced Booking Timer for all bookings made, and the Enhanced Operator Console Availability Screens for accommodation operators once final testing has been conducted. Further information will be provided closer to this release, including how-to documentation for Tourism Centre staff and Accommodation Operators.